YugabyteDB for
Retail and eCommerce
Top retailers use YugabyteDB to deliver differentiated digital and omnichannel experiences to customers around the world at any scale securely.
Get the Guide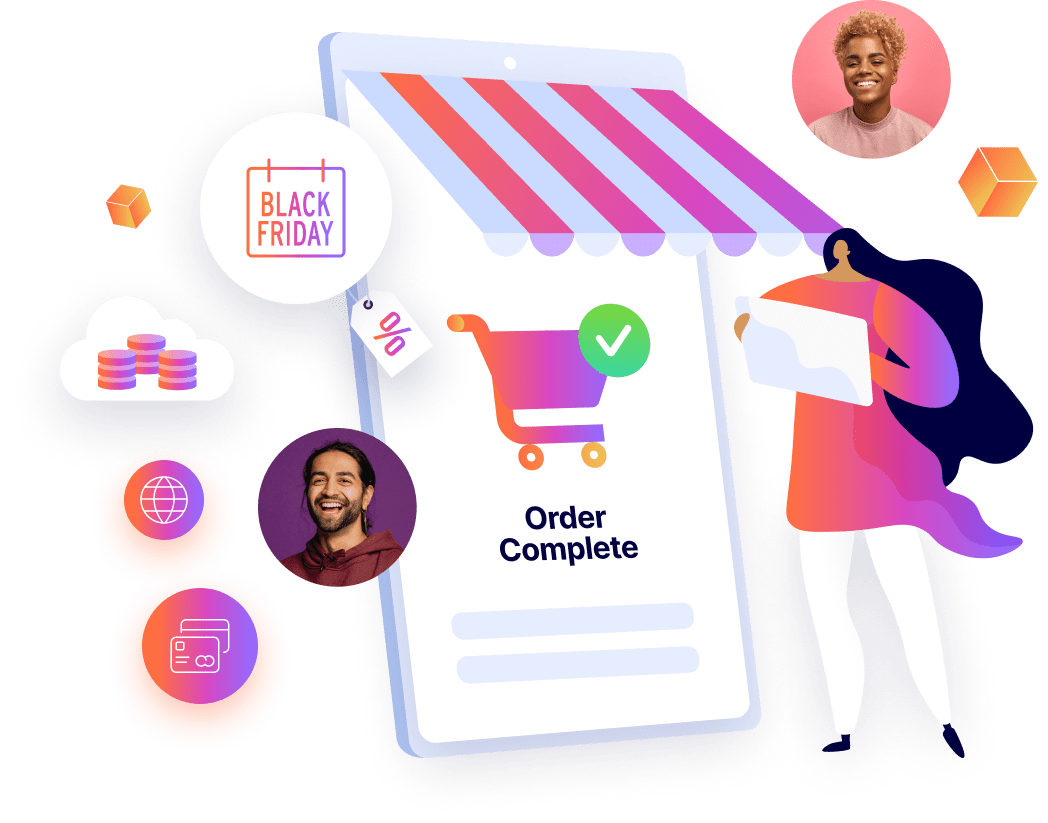 Delight Customers With
Data-Centric

Innovation

Retail is rapidly evolving in response to changing customer buying habits and a wave of global competition from digital-first companies. To compete, retailers and eCommerce companies need to deliver responsive, always-on customer experiences quickly. YugabyteDB meets your mission-critical database needs no matter where you are on your database modernization journey.

Enhance

Experiences

Accelerate innovation to expand omnichannel services and help frontline associates focus more on customers.

Expand

Profitability

Increase operational efficiency with automation while delivering a trusted, always-on digital business.

Increase

Flexibility

Build a future-proof data layer that provides deployment choice with the benefits of 100% open source DNA.
Scale

Your Product Catalog

Expand your global product catalog to hundreds of millions of records with accuracy, and quickly deliver product information.
Seamless Horizontal Scalability Scales out to handle massive spikes in traffic during major events
Leading Postgres Compatibility Makes developers instantly productive with a familiar API and features like stored procedures, triggers, expression indexes, and more
Strong Consistency and ACID Guarantees Ensure data is always accurate no matter the scale
Discover How a Fortune 500 Global Retailer Architected a Global Product Catalog >>>

Build

Innovative Microservices

Deliver shopping carts, shopping lists, online coupons, and more quickly with a cloud native transactional database that can grow with your business and deliver high performance to customers around the world.
High Performance at Scale Accommodates numerous concurrent transactions, high connection counts, and large data sets with low latency
Global Geo-Distribution Offers the widest array of sync and async replication capabilities to balance performance and consistency needs
Continuous Availability Eliminates downtime due to infrastructure failures or planned system maintenance

Ensure

Accurate Inventory

Deliver accurate and timely inventory and pricing information to your customers.  Embrace a distributed database that reduces costs, simplifies business operations, and allows you to focus on delivering innovation.
Strong Transactional Consistency Delivers accurate and strongly consistent data to critical customer-facing retail apps with ACID-level guarantees
Simple Day 2 Operations Mitigate risk  and lower total cost of ownership (TCO)
Dynamic Workload Optimization Handles diverse workload needs, including highly relational data, with a unified database

Market Leaders Trust YugabyteDB

Kroger took the time to convince ourselves that YugabyteDB had all the features we needed and
met our needs.
Mahesh Tyagarajan

,

VP Engineering

By consolidating our Cassandra, SQL Server, and CockroachDB systems into a single YugabyteDB cluster, we were able to radically simplify our operation.
Travis Logan

,

CTO

Yugabyte helped Narvar avoid cloud lock-in, stay GDPR compliant and save money in the process.
Ram Ravichandran

,

CTO
YugabyteDB Advantages
Postgres
Compatibility
YugabyteDB is the most Postgres-compatible distributed SQL database, supporting stored procedures, advanced triggers and more. Stop rewriting apps, pick a database that supports your apps of today and tomorrow!
Flexible
Deployments
YugabyteDB offers the broadest choice for deployment configurations ranging from sync to async configurations, allowing you to build your business and connect your data however you want.
Operational
Efficiency
YugabyteDB's standard APIs for both PostgreSQL and Cassandra simplify app migration and leverage existing skills. YugabyteDB Platform simplifies and automates the deployment and management of YugabyteDB at scale.



Additional Resources to Accelerate Your Retail Business
Ready to learn more about how YugabyteDB can help grow your business?
7 Reasons Why YugabyteDB is the Modern Retailer's Choice
See Reasons
Transform a Global Product Catalog—Legacy to Cloud Native
Read More