Yugabyte Raises $188 Million Series C to Make Distributed SQL Ubiquitous
We are excited to announce that Yugabyte has closed $188 million in oversubscribed Series C funding. Sapphire Ventures led the round with participation from Alkeon Capital, Meritech Capital, and Wells Fargo Strategic Capital, as well as existing investors Lightspeed Venture Partners, 8VC, Dell Technologies Capital, Wipro Ventures, and others. This round comes seven months after our previous round in March 2021, bringing the total funding to $290+ million and values the company at over $1.3B. We are delighted to welcome Sapphire President Jai Das to the Yugabyte Board of Directors.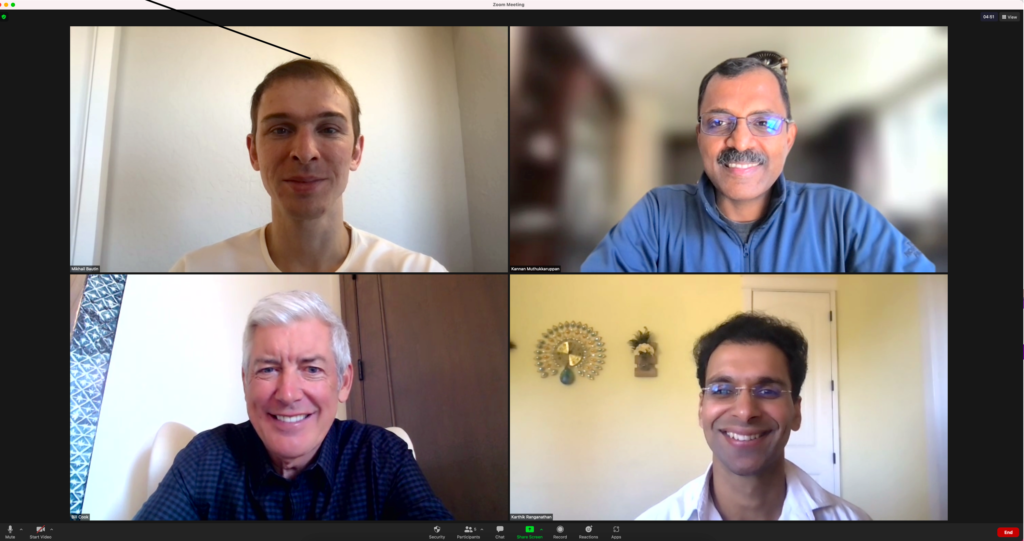 Yugabyte founders and CEO
This additional funding will enable us to further grow Yugabyte's field and engineering teams and fuel the company's ongoing expansion into new markets around the world. We are seeing massive demand from enterprises and startups alike for Yugabyte Cloud product offerings, which deliver a streamlined operational experience for running YugabyteDB in any public, private, or hybrid cloud or Kubernetes infrastructure. Growing customer adoption and international demand drove this additional round of funding to accelerate product velocity and go-to-market efforts.
"The beauty of YugabyteDB lies in its power and simplicity, working for any organization and at any stage. Regardless of whether you're a large enterprise modernizing your existing data infrastructure, a startup born in the cloud or something in between, Yugabyte's cloud native, open source, geographically distributed SQL database can run on any cloud or Kubernetes environment."
Jai Das, Co-Founder, President and Partner, Sapphire Ventures
The rise of microservices, cloud infrastructure, and DevOps is putting pressure on traditional systems of record. Monolithic RDBMSs were not designed for the needs of cloud native applications. The recent COVID crisis accelerated app and database modernization initiatives as organizations raced to innovate on digital and omnichannel experiences. This "acute disruption" exacerbated database problems at leading retailers, banks, manufacturers, and other businesses. We built YugabyteDB to address the growing unmet need for a cloud native transactional RDBMS for modern applications.
YugabyteDB is an open source distributed SQL database that can run anywhere cloud native applications are deployed, across private, public, hybrid, and multi-cloud environments. The database combines powerful RDBMS capabilities with cloud native resilience, scale, and geo-distribution. Most importantly, YugabyteDB eliminates forced tradeoffs between different databases for cloud native applications by delivering the aggregate set of capabilities.
This is the reason YugabyteDB has become the cloud native database of choice for enterprises like Kroger and  Hudson River Trading as they modernize their database footprint. With YugabyteDB, these organizations are no longer forced to choose between data consistency, RDBMS features of traditional relational databases, and resilience and scale of cloud native systems. They can quickly and non-disruptively scale out their databases to handle peak demand (e.g., Black Friday and Cyber Monday) and just as easily scale back when the demand goes down. YugabyteDB's architectural resilience delivers continuous availability when data centers, AZs, or even entire regions go down.
Developers in these organizations are instantly productive thanks to the PostgreSQL compatibility that YugabyteDB offers. YugabyteDB works great with cloud native app frameworks like Spring and Node.js, and data infrastructure such as Apache Kafka and Apache Spark. Operations teams can use Yugabyte Cloud product offerings to simplify the operational overhead of running YugabyteDB at scale in production. Organizations are free to choose any public or private cloud infrastructure or Kubernetes environment to deploy their databases – no more lock-in.
In addition to enterprises that are modernizing their application and data footprint, born-in-the-cloud companies like Xignite, Narvar, and Admiral are also embracing YugabyteDB to future-proof their data infrastructure. Microservices and agile practices enable high feature velocity and innovation. Because there is no telling when a new feature will be a massive hit creating unexpected demand, these applications and databases need to be ready to scale quickly and non-disruptively. With YugabyteDB, companies can be ready to handle unexpected scaling needs and continuous availability so their unplanned success doesn't take their application down. Flexible geo-distribution capabilities allow them to deploy YugabyteDB across multiple regions to achieve resilience, latency, and compliance objectives. Using the Yugabyte Cloud fully managed database-as-a-service, developers can focus on building awesome applications and leave the operations to us.
"Developers love Yugabyte's PostgreSQL compatibility, CIOs love its flexibility and architects love that their data is always available and accessible from anywhere. Yugabyte is an exceptional technology built by an exceptional founding team. We're thrilled to back Yugabyte and help scale it to a company of consequence."
Jai Das, Co-Founder, President and Partner, Sapphire Ventures
Another significant driver of adoption for distributed SQL is the emergence of edge computing. Gartner predicts that by 2025, 75% of enterprise-generated data will be created and processed outside a traditional centralized data center or cloud. Applications such as smart cities, connected vehicles, and industrial control systems are fueling the need for a data layer that can scale to ingest massive volumes of machine generated data and offer low latency access to analytics and events. Mobile consumers and sophisticated on-site retail experiences across shopping, banking, healthcare, and other industries are further driving the shift to a more decentralized approach to deploying and managing applications and data in order to deliver lower latencies and faster processing times closer to where the data is generated.
Edge computing demands a new breed of data infrastructure. Organizations are realizing that neither traditional RDBMSs nor modern public cloud DBaaSs are able to address the data needs at the near edge and far edge. They need a database that can be flexibly deployed in clouds as well as edge locations, delivers resilience and continuous availability even in situations where the edge is disconnected from the outside world, and is simple to operate everywhere. This is why YugabyteDB is deployed by companies such as Turvo, Abra Controls, and Plume. While this market is still nascent, we expect to see a tectonic shift in the years to come.
We value the trust that our customers and community users place in us by deploying YugabyteDB as systems of record and reference for mission-critical microservices. Yugabyte provides industry-leading features to ensure the highest levels of security for data stored in YugabyteDB clusters, whether they are self-managed or deployed on our fully managed cloud DBaaS. Security controls such as data encryption at rest and in transit, role-based access control, audit logging, column-level encryption, and robust multi-factor and federated authentication methods enable organizations to protect their accounts and users as well as data stored in YugabyteDB clusters.
But Yugabyte goes beyond just providing rich security features in the database. Years of experience building and operating enterprise systems have taught us that it is equally important to simplify security operations. Yugabyte Cloud offerings enable automated non-disruptive upgrades and security patching of clusters with no downtime and provide operational features like key rotation, security group and subnet configuration, and integration with third party security tools.
We have built a company culture that is humble, collaborative, and transparent, and always pushing the boundaries of what can be done. We are respectful of the people and organizations we work with. We understand that the industry is undergoing radical shifts. As the world changes, we meet people where they're at, and take them forward. A key to building this culture is to hire the right people. We have built a team of the best and brightest who are mission-driven and culture-obsessed.
To further our mission to simplify the data infrastructure for cloud native applications that lie at the core of digital transformation, we are hiring across a variety of departments and locations, and plan to double our headcount in the next year. If you're interested in joining us on our ambitious mission, please check out our job openings and spread the word with amazing people who would be great additions to the team.
Visit the Yugabyte Careers page to learn more about open positions in your region. We are hiring across all departments.
The industry is in the early years of the transformation to cloud native applications and databases. Transitions like these play out over a decade or two in technology. With this in mind, we are building Yugabyte with a long term perspective, whether it is architectural decisions like full PostgreSQL compatibility through code reuse or best-in-class developer experience. We are proud to work with investors who share our long term view of the world.